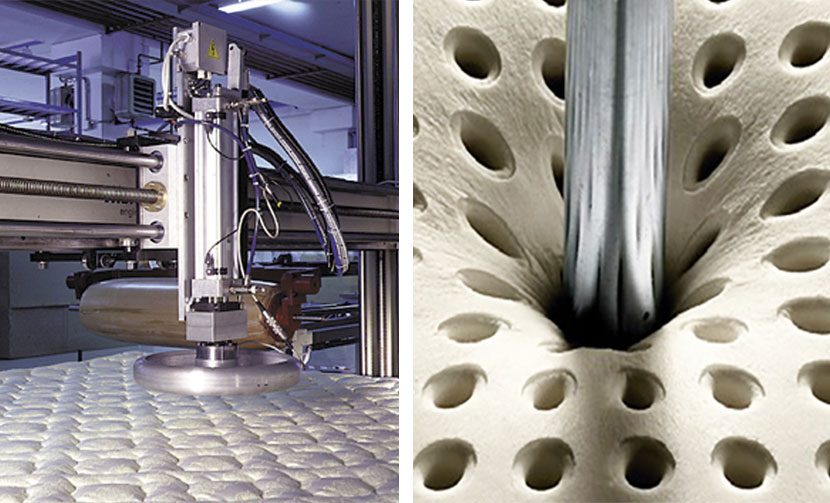 Laboratory tests for mattress compliance with current standards: how they are conducted and what is tested.
In order to objectively measure its quality, the mattress is subjected to tests that simulate the conditions of use that occur during sleep.
There are two types of tests: dimensional and durability, and they are conducted by accredited labs.


The dimensional test
The dimensional test refers to the UNI EN 1334:1998 standard, which defines the methods for measurement and recommended tolerances. Strict protocols are followed to measure the width, length and height of the mattress and the resulting number is a calculated average of the various points measured. Practically speaking, the test determines the exact sizes the manufacturer must indicate on the consumer information labels so the buyer can match the mattress with the correct box spring, frame, bed and bed linens (mattress cover, sheets, blankets, bedspread and quilt or comforter).


The durability test
The durability test refers to the UNI EN 1957:2001 standard. It is conducted with a device that simulates the repeated loads and movement a mattress typically undergoes. Each time the body changes position during sleep, the mattress is stressed. The purpose of the test is to assess changes in mattress properties following simulation of actual use by means of a roller with an overall weight of 140 kilograms.


How is made a test?
Before the test takes place, the mattress is placed in a chamber with constant temperature and humidity control.
Heat and sweat released by the body during sleep can damage the internal layers of the mattress. Even the ambient conditions in the home influence the deterioration of components – the humid heat of muggy days, humidity on rainy days and the heat emitted by furnaces/heaters during cold months all play a crucial role. After 21 days in the chamber, the mattress is ready for the roller test.

At the start and end of the tests, load-deformation is assessed – a measure of a mattress's hardness (i.e. how resistant it is to being pressed by a special, suitably-shaped and sized plate) -- along with its height. The standard requires that the roller make 30,000 cycles across the surface of the mattress in correspondence to the center section that would support the torso/back, hips and legs. To further safeguard consumers, the Consortium's protocol sets the number of durability test cycles at up to 45,000 – 50% more than the CEN (European standardization committee) standard recommends.
The standard also calls for edge durability testing to determine whether it stands up under the stresses caused each time a person sits down on, and gets into or out of bed. Upon completion of the test, a visual inspection is made to discover any visible flaws, like tears and/or rips in seams, broken and/or protruding springs, holes or rips in the fabric or internal materials.
Once it has verified that the test results meet the requirements of the UNI 10707:2003 standard that sets the range within which the test results must fall, the lab issues certification of compliance for the sample that underwent testing. These parameters refer to any loss of height and hardness in the mattress. A coefficient is calculated to find a mean value between objective laboratory data (hardness) and a subjective, perceived evaluation of mattress comfort.

In essence, prolonged use over time causes the mattress to lose its functional features of support, elasticity and resilience. The elements that determine performance and comfort weaken and over time even some hygienic aspects are compromised by use